Truck Rentals
In order to best serve you, Safe Store Self Storage in Lakewood, WA, is an authorized U-Haul rental facility. Our knowledgeable staff is here to help make your moving process as simple as possible. With packaging supplies and truck rentals available on site, our team can help you choose the best size storage unit and moving truck to meet your needs.
Moving trucks from U-Haul are designed for comfort and ease. You and your family will enjoy the benefits of air conditioning, gentle-ride suspension, and high visibility mirrors as well as a fuel-efficient V-8 engine, SRS/air bags, and an automatic transmission. Our trucks are available in six sizes, from 10' to 26', and our storage professionals can help you decide which one is ideal for your situation. Pickup truck and cargo van rentals are also available for rent to help with smaller jobs or projects.
Safe Store Self Storage has everything you need all in one place. Our friendly team is both helpful and knowledgeable. We can help you choose the right materials to pack, the right truck to rent, and the right storage unit to house your goods while you transition. Let us shoulder some of the weight and take advantage of our helpful tips and tricks to make your move run smoothly.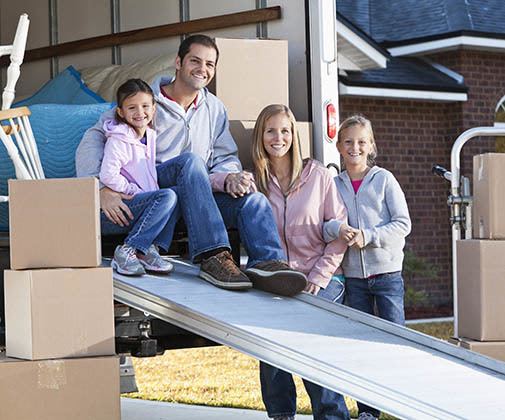 Tips for Packing a Moving Truck
Now that your boxes are packed and the moving truck is ready, it's time to start loading. This is where planning and strategy come in handy. Here are a few tips to help you get the most out of your truck space.
Work from Large to Small - Get the big stuff, like furniture and appliances, loaded first to be sure you have room for them and because you will want to secure these items to the walls. Next load long pieces, like couches and mattresses, on end to take up the least amount of space. These should also be secured to the walls. When that is done, you can start filling in the gaps with smaller items and boxes.
Protect Glass and Breakables - Wrap your mirrors, framed photos, and art in linens or towels and slide them between your mattresses to protect them while in transit. Pack glasses, dishes, and other breakables in sturdy boxes, like large rubber containers, and line them with soft materials like linens or clothing. Don't give them too much space to breath as this creates room to move and increases the chances of breaking.
Lift with Care - Heavy boxes can take a toll on your back. Remember to lift with your legs and consider using a weight belt for even more back support. Don't try to move heavy items alone as this will wear you out more quickly and could cause injury. Take breaks when you need them and don't forget to stay hydrated.