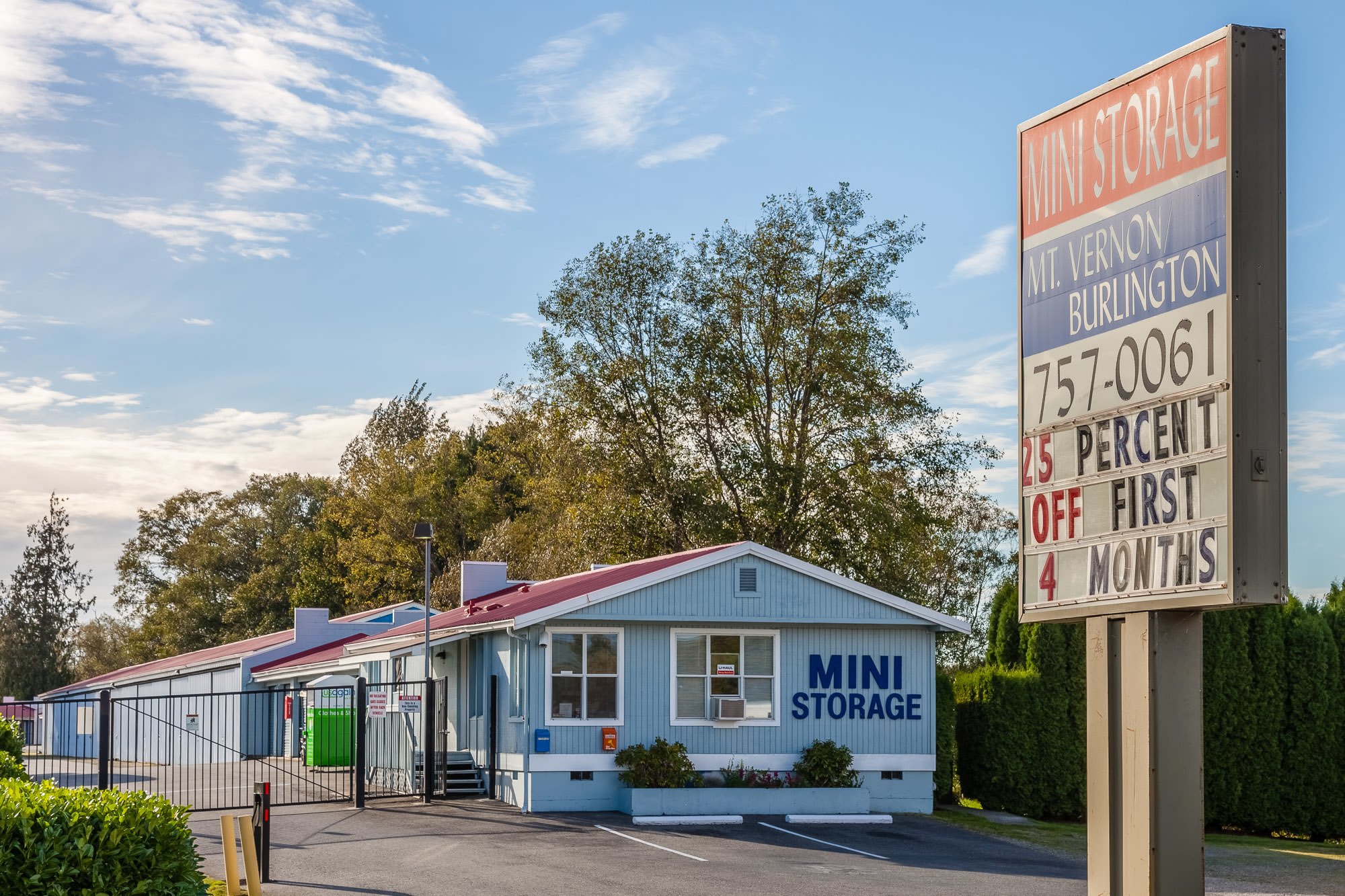 COVID-19: The Safety & Security Of Our Customers, Employees & Communities Is Most Important.
We Are Open & Are Here To Serve You During This Crisis. We Ask That You Call Ahead Prior to Visiting Our Location So We Can Inform You Of The Most Current Operating Procedures During This Difficult Time. Thank You, We Look Forward To Serving You.
RENT or RESERVE Your Unit
Contact Free Rentals
---
Welcome to Mini Storage Mt. Vernon/Burlington
Are you moving and need to rent a truck or a space to store your belongings during the transition? Has your business outgrown its current storage space? Is your home unorganized? If the answer to any of these questions is yes, then Mini Storage Mt. Vernon/Burlington has a storage solution to address your specific requirements.
At Mini Storage Mt. Vernon/Burlington we offer the following services:
Residential storage
Vehicle storage
RV/boat storage
Truck rentals
Boxes, locks and moving supplies
We provide Burlington resident and businesses with the space they need to get organized. Our facility features a wide variety of different sized storage units for you to choose from and gate access seven days a week. For your convenience we accept deliveries and offer drive-up access.
At Mini Storage Mt. Vernon/Burlington, we have a friendly and professional staff that is dedicated to your happiness. We want you to find the peace of mind you deserve. Our self storage units can help you along the way. Contact our office for more information.
Get Organized
Is your home or business disorganized? Let Mini Storage Mt. Vernon/Burlington help. Getting organized brings peace of mind. Here are a few of our tips to set you on the path to bliss:
Reserve Early – The sooner you start your self storage journey the more quickly you can get organized. Contact our office for unit availability.
Declutter Regularly – The longer you allow clutter to build up in your home, the more time it will take you to get organized. Combat this with regular cleaning and decluttering.
Make a List – We all forget things from time to time. That is why it is important to write down what items you store where.
Welcome to the Community
Mini Storage Mt. Vernon/Burlington is an inclusive self storage facility in Burlington, WA. We offer residential, commercial, vehicle and RV/boat storage, as well as truck rentals. Packing and moving supplies are also available for purchase in our office. We serve Burlington and the surrounding communities of Mount Vernon, Sedro-Woolley, Anacortes, LaConner, Conway, Bow, Edison, Alger, Concrete, Lyman and Hamilton.
Self Storage Features:
Access seven days a week
Friendly, professional staff
RV and boat parking
Deliveries accepted
Drive-up access
Electronic gate access
We sell boxes, locks and moving supplies
We rent U-Haul trucks
Wide driveways