Winter Self-Storage Tips for Seattle Businesses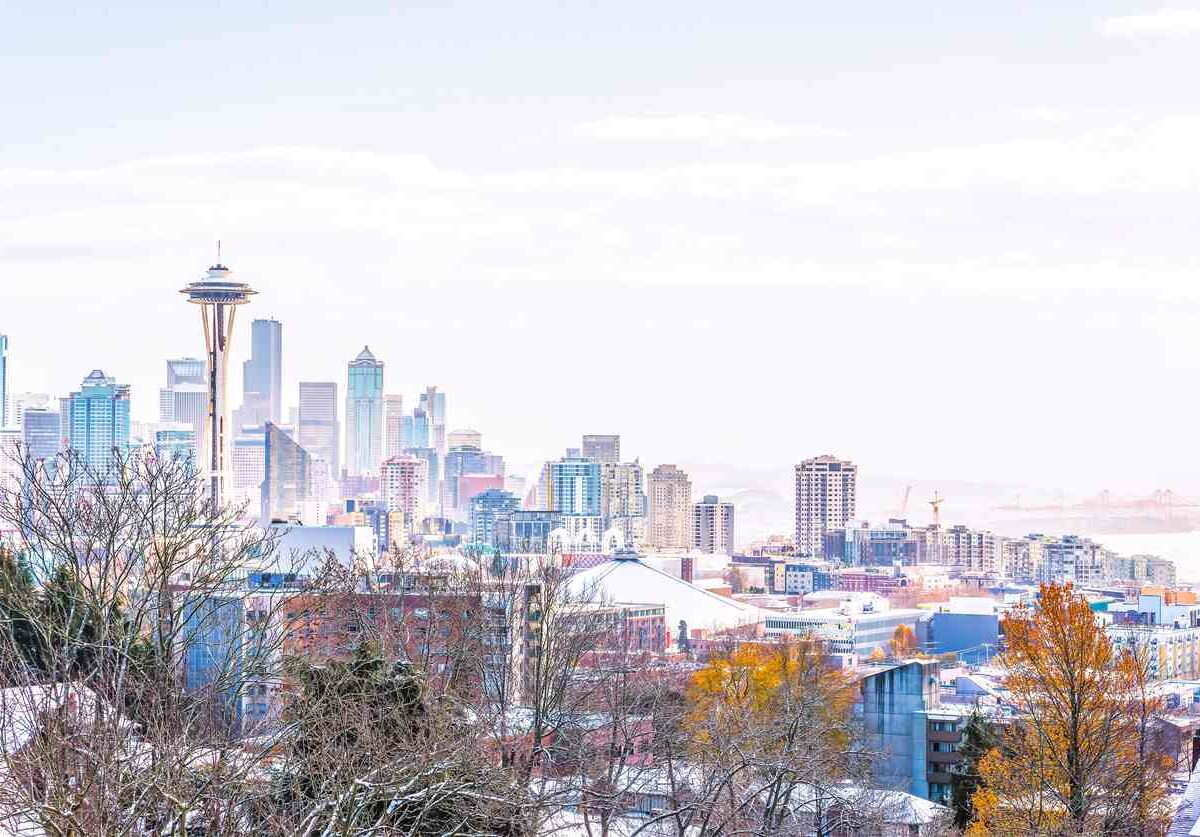 Seattle winters are rough enough when it comes to keeping your home and yourself warm, and things can get even more complicated when you need to find a place to store business inventory in the winter. This blog will share our expert tips on packing for winter storage and choosing the right solution for cold and wet weather storage. With proper preparation and the right storage unit, your belongings will stay clean, fresh, and in great condition when you retrieve them.
Business Storage Tips for Seattle Winters
Since Seattle weather is cold and damp, you must carefully pack your items before storing them. Additionally, careful packing and inventory management will help you keep track of your business's storage year-round.
Clean Items Thoroughly Before Storing
Cleaning before storing is especially important if your business sells vintage items, upcycled clothing, or other secondhand goods, which may not be clean when you purchase them. Dust and stains set in over time if not cleaned first.
Use Bubble Wrap And Packing Pillows For Fragile Items
This tip may seem obvious, but the repercussions could be disastrous if you forget to cushion delicate items. Protect glass, ceramic, plastic items, and anything else that may break easily. When it comes to your products, the last thing you want is to have them broken or damaged during transit.
Store Items in Plastic, Airtight Containers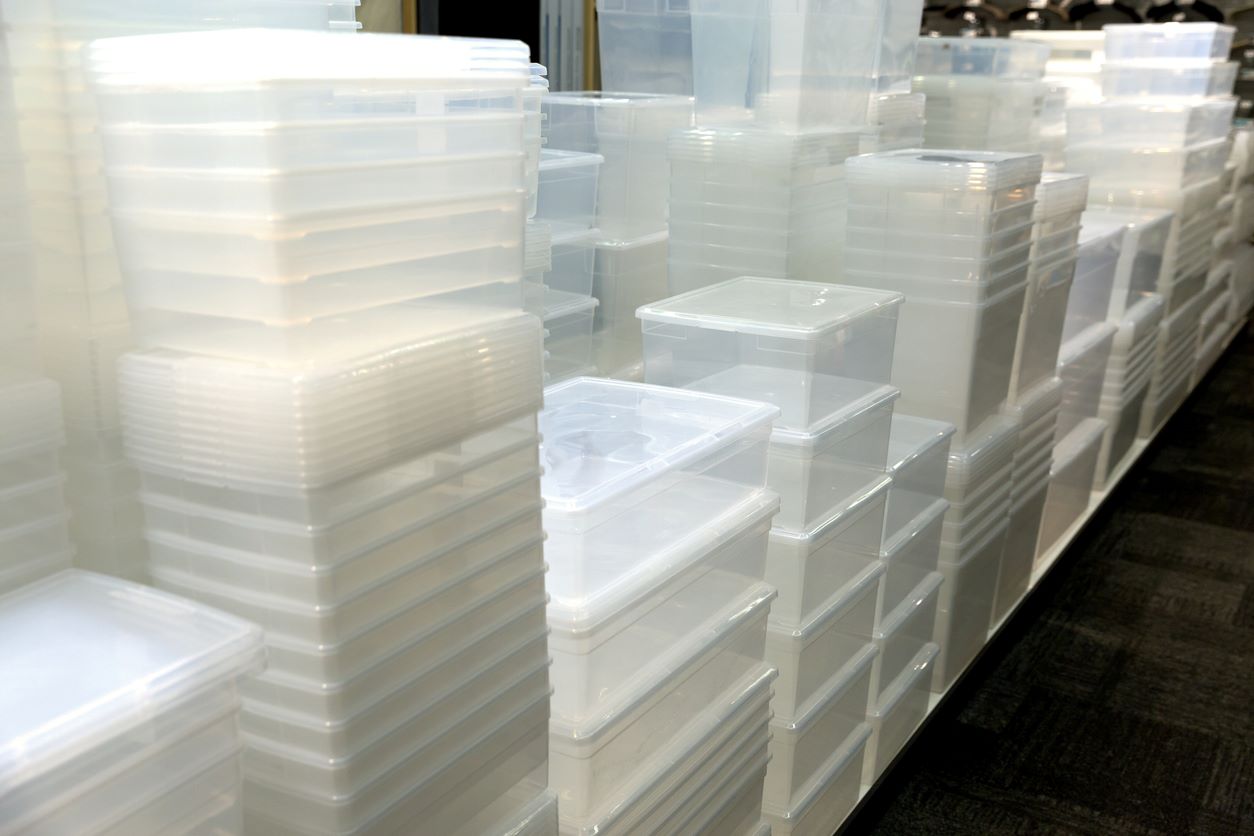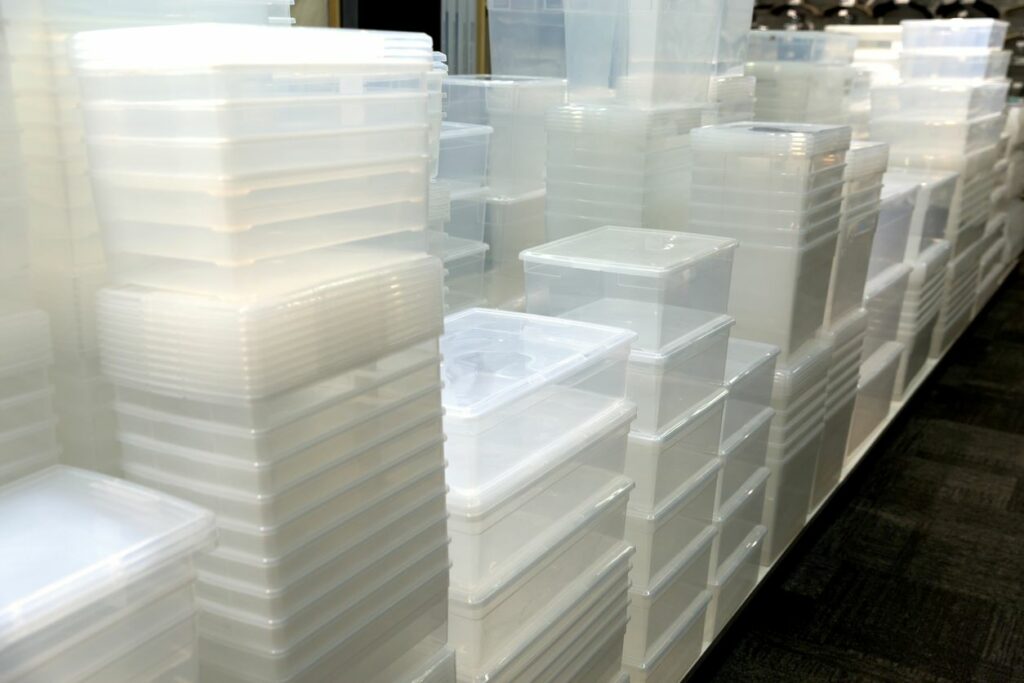 Source. Alt text: Clear, plastic storage containers in various sizes stacked in rows
A plastic storage container will protect textiles, artwork, and other products from potential moisture in your storage space. In the future, plastic containers will be more durable than cardboard boxes.
Keep Clothing In Vacuum Sealed Bags
To prevent excess moisture from seeping into clothing, use vacuum-sealed bags to protect clothes from damp weather conditions and save you space. However, you'll want to ensure you retrieve your clothes and air them out every few months so creases don't set in.
Carefully Label All Boxes
By labeling each of your storage containers, you'll save time when it comes to retrieving specific items. Labeling is essential if you're storing products you plan to sell. When storing extra inventory, include all details about the product you're storing, such as color, size, and product name.
Create An Organized Inventory Of All Goods Stored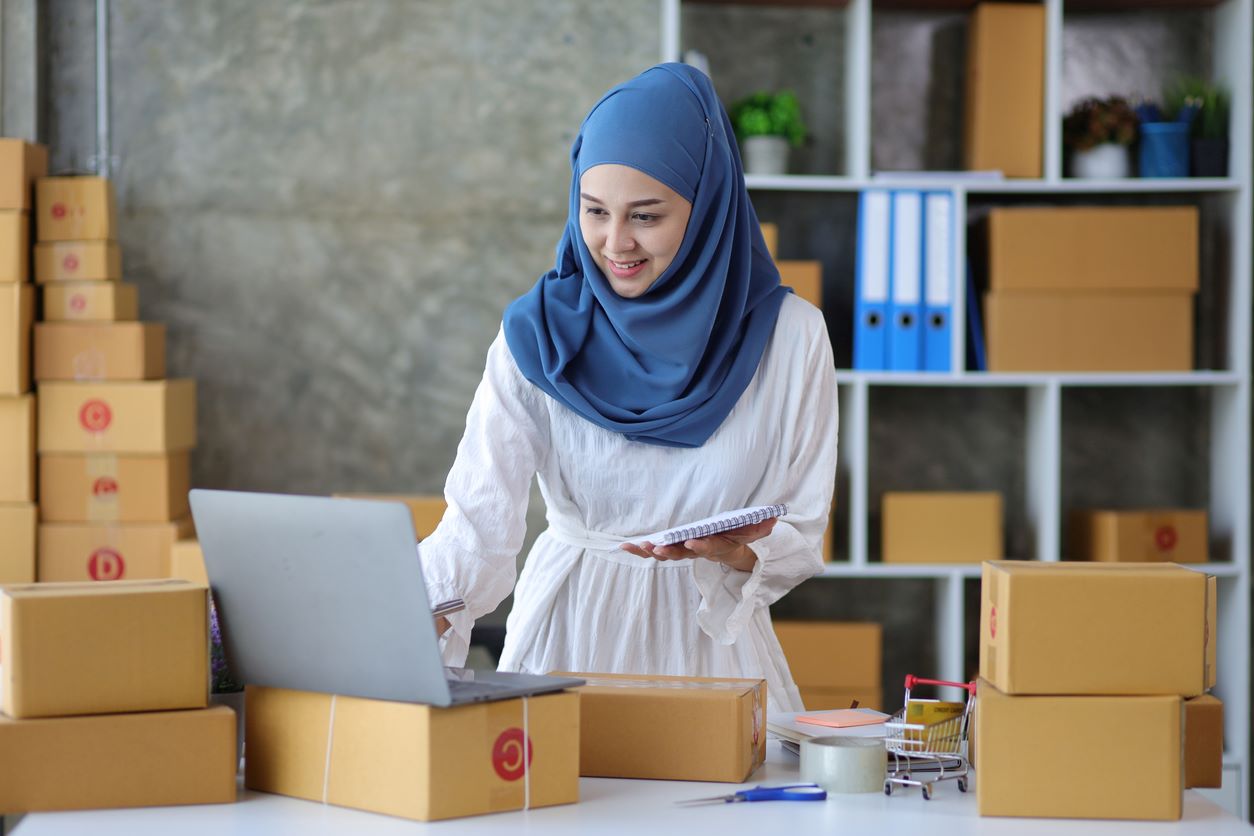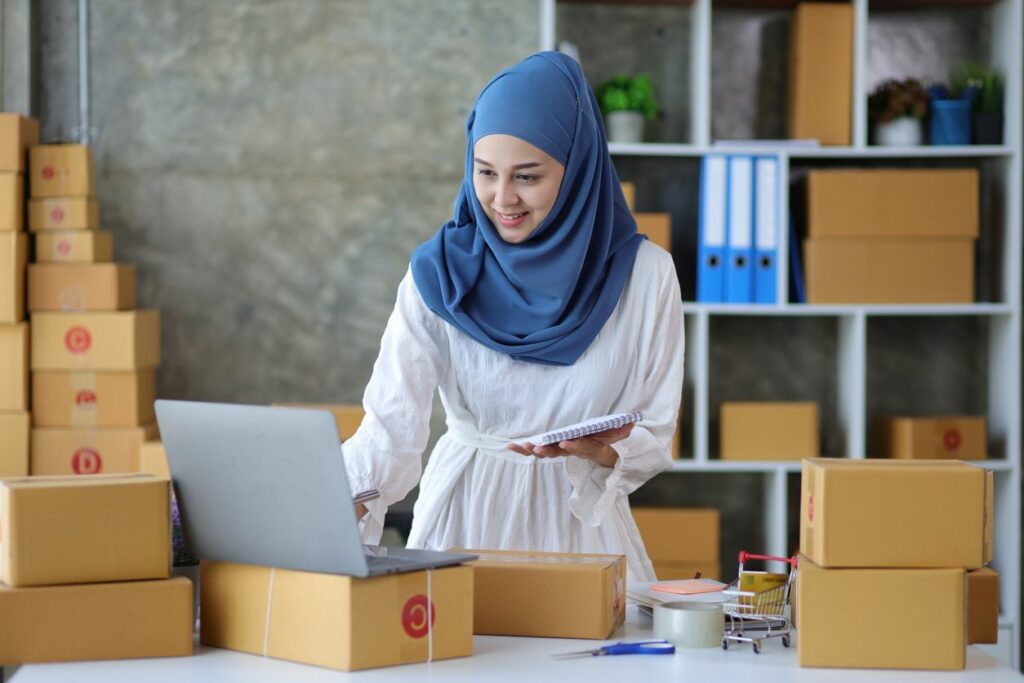 Source. Business owner takes inventory of items using laptop and notepad
With a well-organized, thorough inventory, you can track what you've put into storage and what quantity of each item you have stored. You can create an inventory on paper or by typing up a spreadsheet.
Choosing Cold Weather Storage
You have options for your business's winter storage needs, but not all of your options will give your products the protection they need. To make an informed decision about which kind of storage to use, whether it's an outdoor shed, warehouse, or a climate-controlled storage unit, consider the type of items you plan on storing.
Delicate items like handmade and vintage goods will need extra protection. Your business's paper records and other files can also warp in the cold. Computer hard drives and other parts can also suffer in cold temperatures. If you plan on storing more sensitive items, opt for a temperature-controlled storage environment.
Seattle Climate Controlled Storage
Electronics, wooden and leather furniture, vintage items, artwork and sculptures, and musical instruments require climate-controlled storage. While your home can be a climate-controlled place to store items, you may not have space for all your business's items. A climate-controlled storage unit is an excellent option for winter storage that'll save you space in your home.
Some benefits of renting a climate-controlled storage unit include:
Shields items from weather conditions year-round
Keeps items within a controlled temperature range using heat and air conditioning
Saves small business owners space in their homes
Rent Business Storage in Seattle From Urban Self Storage
Give items an extra layer of protection in the winter by renting a climate-controlled storage unit from Urban Self Storage. Our Seattle commercial storage options feature month-to-month leasing to accommodate seasonal or long-term storage.
Select one of our many storage facilities near Seattle or browse our Washington storage locations. Then, select the storage unit you need based on size and amenities and rent online by following the prompts. If you need more information or assistance, fill out a contact form, and we'll contact you soon.
More From Urban Self Storage