Homeowner's Guide to Holiday Lighting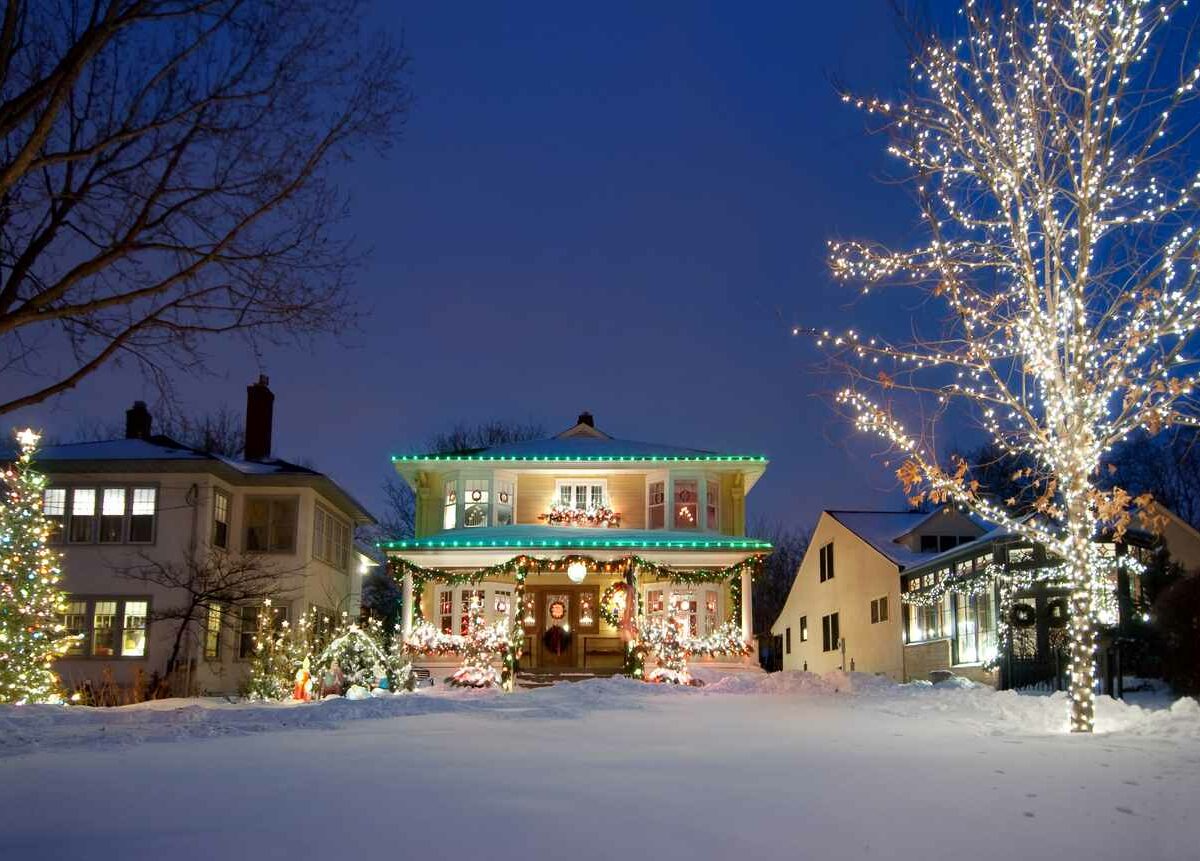 With the holiday season quickly approaching, it's time to start getting excited to celebrate with family and friends. An essential part of ringing in the season is decking out your home in festive decor. If you're having trouble deciding how to approach holiday decorating, this guide will help. We'll give you dazzling holiday lighting ideas and safety tips to help you celebrate with ease.
Holiday Lighting Ideas
Accent Your Home's Architecture With Lights
Classic roof lights are a tried and true way to decorate your home for the holidays. For a simple, classy look, run Christmas lights around the lines and curves of your home. You can incorporate white lights if you prefer understated decor, or go all out with bright rainbow strands. If your family celebrates Hanukkah, you can even opt to hang blue and white lights.
Spruce Up Windows and Doorways
If you're new to holiday lighting, getting up on your roof can be daunting. An alternative to using the latter is by hanging lights around ground-level windows and doorways. You can also pair lights with faux spruce garlands for a classic, cozy look. If you're feeling creative, you could even make a festive wreath for your front door, using supplies from a local craft store.
Illuminate Your Walkway
A fun and easy way to show your holiday spirit is by lining your walkway or driveway with decorations. You can find all sorts of ground lights and yard signs in stores, in a wide variety of colors and designs. You could opt for white and blue snowflakes, red and white candy canes, or even cute snowmen. Lighting up your walkway will also help you welcome holiday guests safely, making it a practical and fun decor idea.
Try a Light Projector
If you love decorating for the holidays but don't love untangling lights or setting up elaborate decorations, a light projector can be a great option. You'll find light projectors that display all sorts of designs from festive snowflakes to tiny menorahs. Basic projectors can cost just $30 or less, while more advanced projectors that offer multiple designs can run above $100. A light projector is a great way to save money on holiday lighting.
Keep it Low Effort With Yard Standees or Inflatables
Yard standees and inflatables allow you to decorate with cute characters and animals. If you love sparkling decorations, opt for a lighted tinsel yard decoration. A large inflatable character is a great low-effort option as well, especially if you have kiddos. You can find inflatables of many popular cartoon characters from TV shows and movies, sure to add some joy to your lawn.
Holiday Lighting Safety Tips
As you set up your festive yard display, it's crucial to follow proper safety precautions to reduce your risk of fire or injury. We urge you to:
Ensure all lights you plan on displaying outdoors are intended for outdoor use
Double-check all lights and replace any broken bulbs
Look for the UL seal, which certifies lights have been properly tested
Use a cord meant for outdoor use and cover it to keep it dry
Opt for hangers, instead of nails and tacks, which can cause electrical shocks
Turn off lights at night, or use a timer
Get Storage for Seasonal Decorations at Urban Self Storage
As holiday celebrations wind down and the new year begins, finding a spot for all of your holiday decorations can be tricky. You don't want to give up space in your closets or garage and you'll also want to make sure decorations stay well sealed and in good condition for next year.
Instead of shoving decorations into the corner of your garage or jamming them into a closet, rent a self storage unit from Urban. With a small, seasonal storage unit, you can rest easy knowing your decorations are being kept dry and secure.
To find the perfect storage solution, choose one of our many storage facility locations. Then, you can rent entirely online following the online prompts. If you have any questions or concerns, feel free to fill out a contact form or call your desired storage location.
More From Urban Self Storage