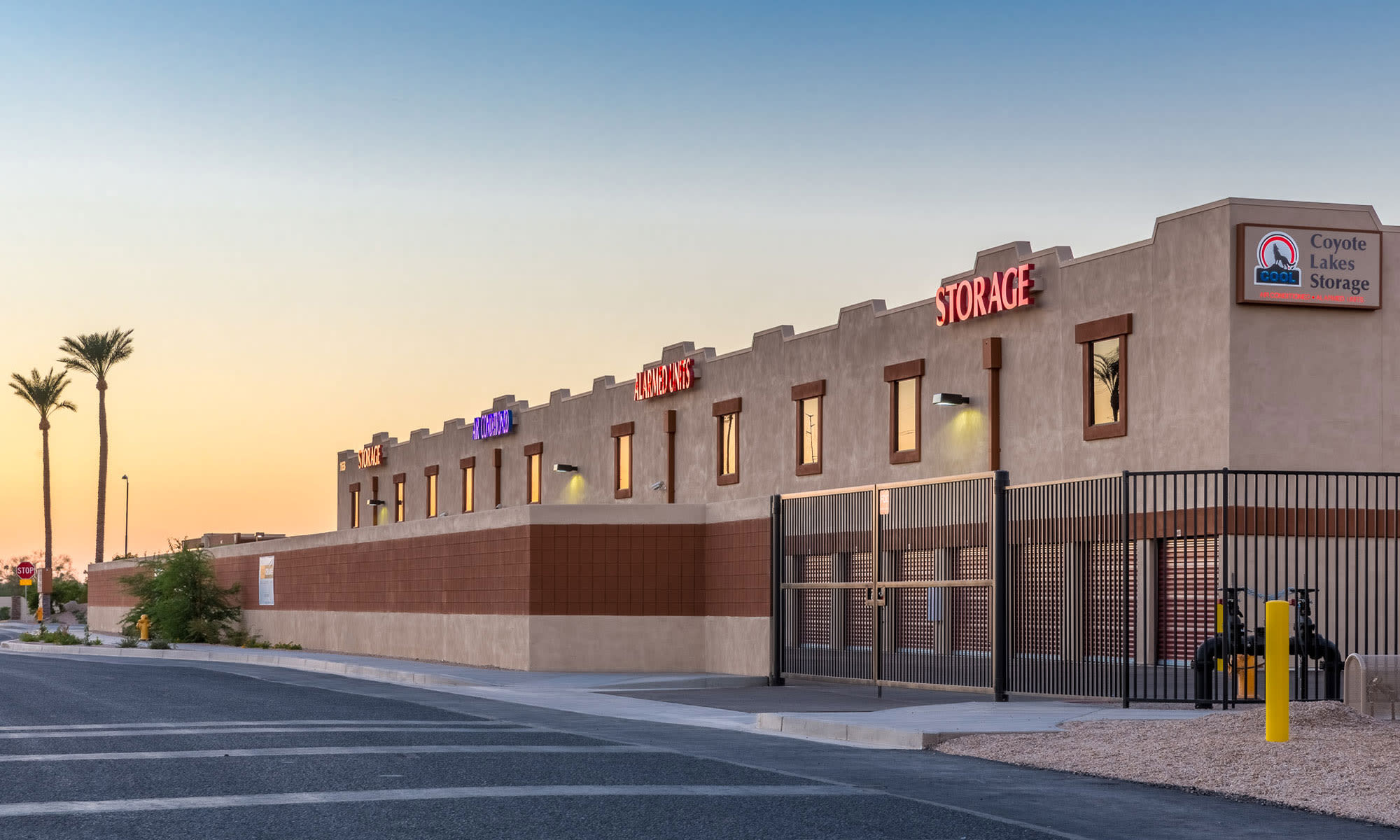 RENT or RESERVE Your Unit
Contact Free Rentals
---
Welcome to Coyote Lakes Cool Storage
The community of Surprise, AZ, is bursting with activity. Coyote Lakes Cool Storage offers heated and cooled self storage to keep your busy life organized, and keep your home or office from bursting at the seams. We have units to fit every situation, whether you are between moves, need space for the team's equipment, or want to put your business documents in order.
It can be challenging to figure out how much storage you need. The professionals at Coyote Lakes Cool Storage in Surprise, AZ, are at your service. We'll help get you into the appropriate storage unit, and even offer some sage advice on how to pack it. Every unit is individually alarmed for peace of mind. With 7-day access, your items are available whenever you need them.
Welcome to the Community
We are located on West Bell Road, off Coyote Lakes Parkway, just south of Coyote Lakes Golf Club. Our self storage community sits east of the Agua Fria River, close to Sun City West. Seven-day access, individually alarmed units, well-designed paths, and excellent lighting combine to make Coyote Lakes Cool Storage the premium choice for quality, convenient storage.
Self Storage Features
Residential Storage
Climate-Controlled Units
7-Day Access
On-Site Managers
Individually Alarmed Units
Packing Supplies
Month-to-Month Leasing
Great Storage Specials
Dollies & Carts Available
Senior Discounts
Military Discounts
Contact Coyote Lakes Cool Storage to learn more about how climate-controlled self storage can organize your home or office in Surprise, AZ.
Clean, Cool Storage
Our meticulously maintained storage units are temperature regulated to help protect your belongings from extreme weather. Clothing, artwork, furniture, electronics, paper documents, and photographs are better preserved in an air-conditioned environment. And if you are in and out of your self storage unit frequently, stable temperatures make for a much more pleasant visit.
A Place for Everything
Extra storage for home or business is a wonderful idea, even better when you have a plan to make the most of it. At Coyote Lakes Cool Storage, we have the expertise and the packing supplies to make every square foot of your storage unit count. Storing and accessing your things easily is simple with a little preparation.
Pre-Game Strategy – Make a list of all the items you want to store, then sort them according to how soon you'll want to get at them. For a big move, or a large inventory, plan to leave a center aisle clear, so you can easily move through your things and find what you need.
The Right Stuff – Those old boxes from your last move may no longer cut it. Make sure you have sturdy boxes, a good permanent marker, sealing tape, and plenty of packing materials to protect furniture and fragile items. Pop into the office at Coyote Lakes Cool Storage. We've got what you need.
The Wrap Up – Blankets, furniture covers, stretch film, and tie down supplies offer the extra protection and stability to keep your belongings scratch-free and snug.